Gender as a kaleidoscope - Giulia
Gender as kaleidoscope. Reflecting on an urban exploration 19.09.20
As we started not-so-aimlessly walking North through the backstreets branching from Hauptstraße, Luismi and I had the vivid impression that the questions asked by mission 7 – Gender and diversity – required explicitly grappling with our own positionality and identity.
As we tried to roam – and cross the space with awareness and intention – we reflected on how we, two young cisgender, educated people with EU migratory backgrounds, could only read a spec of the urban fabric, when it came to gender and diversity. Our positionality prevented us from being exposed to certain challenges or accessing certain spaces – there are only so many identity components that can be activated and made salient by any given situation, only so many spaces one can access with one's identity; there is only so much one can experience with their – albeit intersectional and fluidly identified – body.
As an upshot of these reflections, our lenses to read gender and diversity were necessarily bound, even blinding?
Our footsteps took us back and forth in lanes across parts of Schöneberg, mostly around Martin-Luther-Straße, the Regenbogenkiez (Rainbow neighbourhood), Nollendorfplatz, Eisenacherstraße. We sat down in the middle of Barbarossaplatz, as the toponomy was too evocative, and the sunshine too inviting not to stop by. I used the Strava app to record our wandering and exploration. Figure 1 reflect what the app recorded.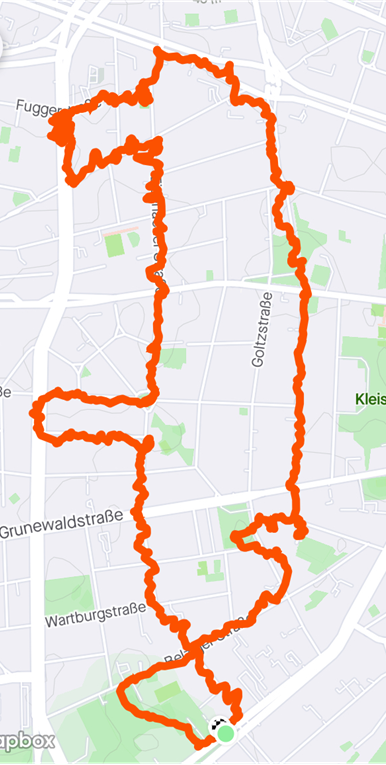 A few days later, as I was dwelling on the impressions collected on that urban exploration. The overall atmosphere has conveyed superficial and immediate feelings of a harmonious, diverse and well-engineered neighbourhood, with plenty of inclusive spaces for leisurely walks and for spending time outdoors.
Indeed, there were many more inputs to look at gender and diversity that would be possible to frame as lenses – instead, I opted for the metaphor of gender as a kaleidoscope. Irrespective of how hard one may try, kaleidoscopes cannot replicate the same perspective twice, producing endlessly new arrangements of similar and recurring components and elements. With such an overwhelmingly rich spectrum of possibility to talk about gender and diversity, I started questioning what would be feasible to focus on.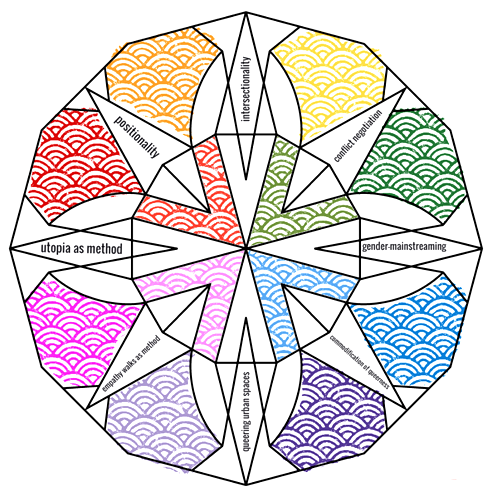 Coming into a space with little previous knowledge on the gendered history of the neighbourhood other than its centrality for the LGBTQ+ movements since the 1920s, I conducted more desk research into the initiatives that had been carried out, deciding to focus on the individuation of spaces across the neighbourhood where potential conflict or friction could arise.
More specifically, the desk research conducted revealed some of the many ongoing initiatives that the municipality, the district, social movements, and civil society perform to enhance gender quality, representation, and inclusion. This is a short survey of few of the initiatives (spanning from governance, to urban planning, to arts and culture, to activism, to tourism) that explicitly address gender-relates themes in the Schöneberg district.
· A Femmes City Program and art exhibition at U7 Kleistpark · Senatsverwaltung für Stadtentwilcklung Gendermainstreaming · Gender Equality Framework for Berlin · Fetish and sex shops · Instances of rainbow-washing (ATMs, bus stops) · Queer Berlin—Schöneberg Tour · Virtual 2020 CSD Parade · Regenbogenkiez Nachtbürgermeister —Nightmayor Tiny House This led me to think about conflict negotiation as heritage. I was struck by the pilot project – borrowed from other cities, mostly in the Netherlands – of instituting a Nachtbürgermeister, a Nightmayor. The Nachtbürgermeister, and the Tiny House adapted to Information Point are to be found in one of the nightlife hotspots of the Regenbogenkiez. Active certain nights of the week, the activity of the Nachtbürgermeister is allegedly that of mediating amongst conflicting interests of residents, visitors, tourists and other interested parties. The physical presence of the Nachtbürgermeister at the designated tiny house built by the Tempelhof-Schöneberg Bezirkamt is complemented by the mobile presence of the Nachtlichte, volunteers dressed in white that provide support whilst roaming across the areas of the thriving Schöneberg's nightlife.
The more I read about it, the more I became fascinated with the question of how the presence of a hybrid formal-informal place designated for conflict negotiation affects the urban space.
Admittedly, upon an initial explorative and desk-research recognition, the capacity of Schöneberg to harmoniously integrate different identities and backgrounds in the district sounded all-too-perfect. Therefore, I started wondering what could stir up the urban fabric, something that could make frictions visible, and engage the neighbourhood outside the educated guesses of people crossing back and forth the gates of academic jargon with relative ease.
A well-meaning agent provocateur – if somewhat of a contradiction in terms – and not a mere excuse to play devil's advocate in what feels a genuinely welcoming and inclusive urban space. These reflections led me to re-load the metaphor of gender as kaleidoscope into the prototype of a Cards-oskope deck.


The prototype cards are meant as a provocation, to make ripples on the water on the surface of a seemingly idyllic neighbourhood and elicit cityscapes of empathy through conversations that challenge our positionality, gender identity and experience and awareness of diversity. They could ask prospective participants to navigate the intersectionality of the neighbourhood's identity and its related dynamics of spatial inclusion, exclusion, and expression.
What counts as a minority, in a place which is regarded as one of the most inclusive districts in Berlin?
The Cards-oskope deck could be a tool to encourage the recognition of conflict negotiation amongst the different identities of the Regenbogenkiez as part of Schöneberg's Heritage.
The questions are meant to elicit cityscapes of empathy by asking participants to navigate the intersectionality of the neighbourhood's identity and its relate dynamics of spatial inclusion, exclusion and expression.