The city is a place of transit. Ontologically entwined with the aspiration for settlement and permanence, its very nature is that of a hub of living trajectories. It is a generator of movement, an attractor of flows, a crossroad of destinies. Cities mobilise bodies, relocate resources, displace and replace activities. Their life is animated by arrivals and departures, paced by commuting, marked by a condition of impermanence and instability.
Port Meadow in Oxford, England, is an ancient area of grazing land, still used for horses and cattle, which has not been ploughed for more than 4,000 years. In return for helping to defend the kingdom against the pillaging Danes, the Freemen of Oxford were given the 300 acres (120 ha) of pasture next to the River Thames by Alfred the Great, who founded the city in the 10th century. "Communiter extra murum pasturam reddentem VI [sex] solidos et VIII [octo] denarios", which in English translates as "The citizens of Oxford have pasture in common outside the wall rendering six shillings and eight pence". This entry is recorded in the Domesday Book, a manuscript record of the "Great Survey" of England and Wales, completed almost a thousand year ago, in 1086, by order of King William the Conqueror. Every citizen of Oxford had free access to these 120 hectares of common land, where they could bring one animal each to graze, and still have today.

01. "The Domesday Book" from History of Law Blog
On the other side of Europe, the TRANSEUROPA Festival started at the Centre for Cultural Decontamination (CZKD) in Belgrade on September 30, 2015 with an opening discussion entitled "Not a Dinner Party: Reflections on Radical Change in Europe", during which, very aptly, one of the speakers said: "Look at the paradox that you are now called a radical if you dare to ask for a marginal redistribution of wealth, while more than a century and a half ago thinkers were calling for the abolition of private property". Similarly, while we all are taught the mantra of the miraculous benefits of privatisations, the institution of the commons was already recorded in documents dating back almost a thousand years ago.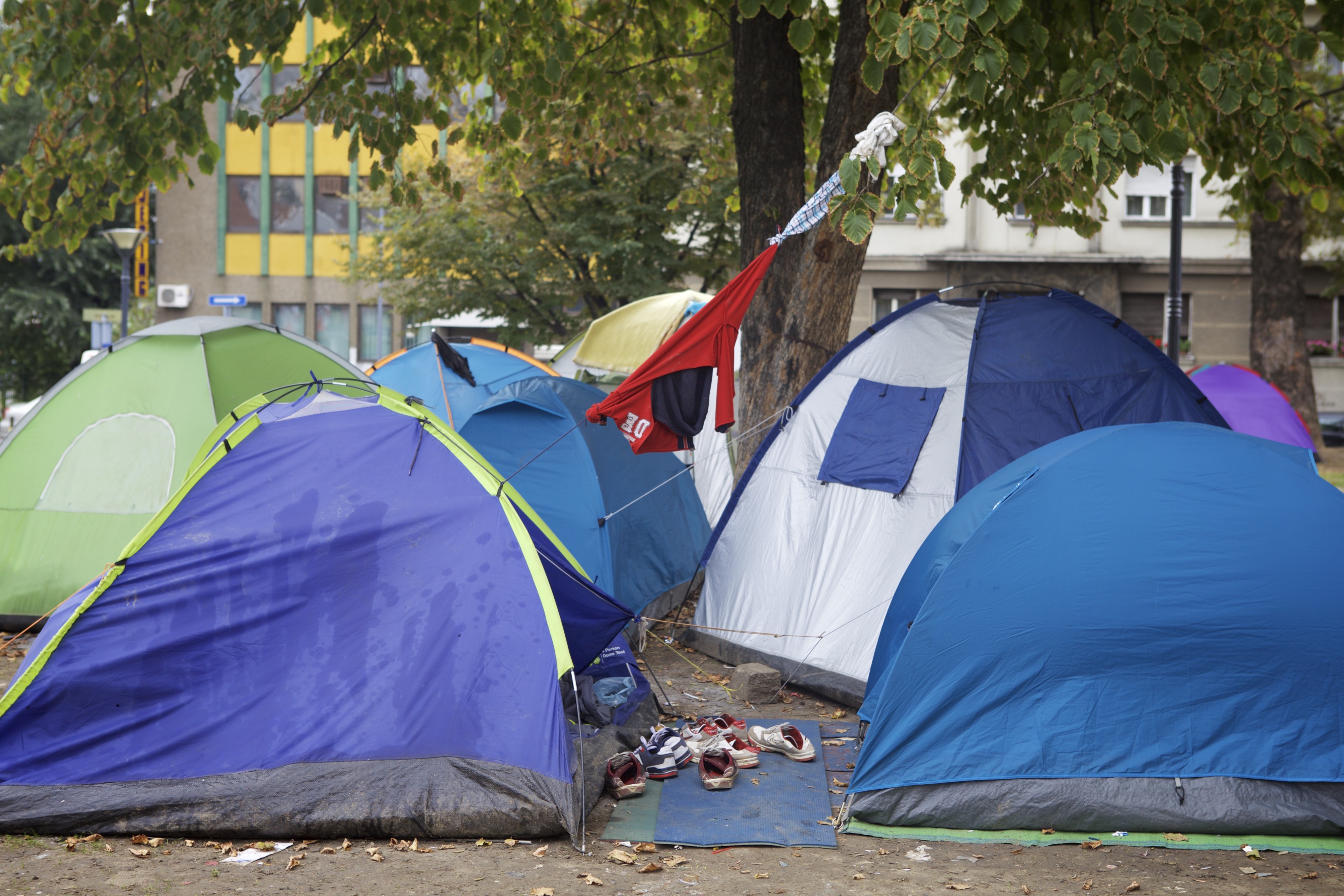 02. Refugees camping in Belgrade centre - October 2015
Belgrade is currently a hub of living trajectories, being situated at the very centre of the flows of migrants escaping from Northern Africa or other areas of that continent because of war or misery, hoping to build a dignified life for themselves and their families in wealthier, safer European countries. The typical journey, which is anything less than a demand for a fairer relocation of resources, starts from Syria and goes through Turkey, Greece, Macedonia and Serbia, then hoping to enter the European Union via Hungary, before continuing to Austria and, finally, reaching Germany or, even further, Sweden. The part of Belgrade that lies between the central bus station and the main railway station is where hundreds of mobilised bodies arrive on a daily basis, stop for anytime between a couple of days and a dozen of weeks, before continuing their journey. The parks where the migrants camp while in Belgrade have become a contemporary version of a caravanserai. Let's keep our cities generators of movement, attractors of flows, crossroads of destinies!

03. "Ancient Ottoman caravanserai of Qalat el-Mudiq, Syria" by Bernard Gagnon (2010)
Back in Oxford, sections of Port Meadow are now under threat by the speculative pressure that characterises the residential housing market in the UK. From 2012, the Oxford University Estates Directorate, with the help of British construction company Longcross, have been developing the one-hectare Castle Mill site (400m × 25m), close to the southern end of Port Meadow, as extensive student accommodation. The development has been likened to building a "skyscraper beside Stonehenge", as reported by The Oxford Times, and even pushed the Head of Heritage at Oxford City Council to say that "there is no justification for this harm".

04. "Panorama of graduate housing from Port Meadow, Oxford" by Jpbowen (2013)
The commons, which often take the form of green areas such as Oxford's Port Meadow or Belgrade's Luke Ćelovića and Bristol parks, are there to protect and sustain communities, which could be small or large, permanent or in transit, from the Freemen of medieval Oxford to today's refugees. Let's all fight for the commons!
Text by Luigi Galimberti. Words in italics are taken from the definition Transient City of the Exercises of Urban Reconnaissance by ogino:knauss . Historical notes about Oxford's Port Meadow are taken from: A. W. McDonald, "A brief history of Port Meadow and Wolvercote Common and Picksey Mead etc.", The University of Oxford. A shorter version of this text was read in public outside Belgrade's main railway station on October 4, 2015.